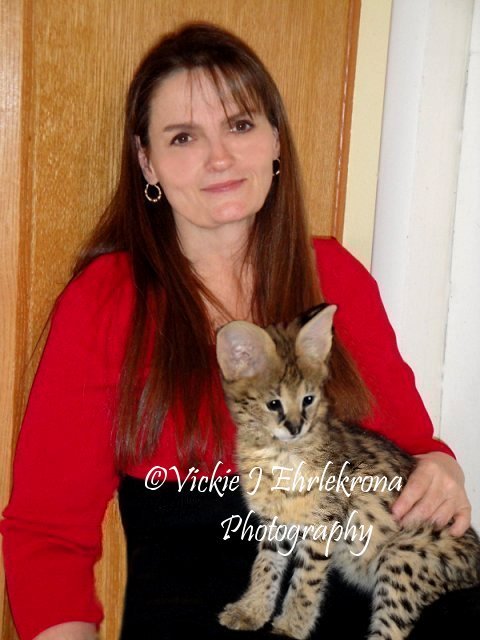 (Crisanda's owner Vickie Ehrlekrona with her African Serval kitten Lazarus)
~ Personal & Business References ~
Papillon & Savannah
Any potential buyer can have peace of mind in knowing that their baby has had a wonderful start in life, and that every opportunity has been given to them to ensure that they are well rounded, happy, and loving family companions. With thirty one years of breeding Papillons behind me and with a total of fifty-two years of just living with, caring for, and loving animals of all species, shapes and sizes that adds up to be quite a lot of years of experience caring for animals. I have always taken great pride in the care, welfare, and socializing that my family and I give all of our animals. Big, or small, livestock or family pets, they all receive the best care money can buy.
A good foundation for any animal is essential, and of upmost importance is knowing that your baby will come from some of the best quality breeding lines there are. Thus far, our pedigrees have proven to be genetically sound with good knees, hearts and eyes. All are simply a must! Our babies are provided with a loving, nurturing environment to ensure a healthy and happy baby with an excellent temperament. We believe in well socialized, well rounded babies so all of our puppies and kittens are raised underfoot right on the main floor of our home. They are not raised in kennels or out buildings! When they are old enough and vaccinated they are allowed out in to the yard and enclosures to explore, run and play and as a result of all this socializing our babies become bullet proof, confident, and very well adjusted to being handled, crated, put in walking jackets, leashed trained, and familiar with children, all the different sounds and smells around them and from the safety of their yards and enclosures they watch our other animals and experience horses, chickens, and even goats!
All of my breeding animals get the best conditioning and care possible. We practice excellent animal husbandry to ensure the management of health, genetics, and the overall proper development of well rounded companions both mentally and physically. I spare no expense to ensure the health and comfort of all my animals is maintained and each animal is properly housed and cared for to avoid over crowding and unhealthy conditions. I retain the best, highly skilled veterinarians in my community, and any of one them would gladly offer a personal reference regarding the care I give my animals. I literally spend tens of thousands of dollars each year ensuring our animals have the best care possible. If they need the best, they get the best. In addition, and more importantly I have always kept my ethics and breeding standards high, never compromising the health or welfare of any of my animals for the sake of a dollar or AKC title.
I personally encourage, and openly invite any prospective buyers, fellow breeders, or exhibitors into my home and on to our property to see the conditions in which my animals are housed, socialized, and cared for. Both Crisanda Papillons, and BeSpotted Savannahs are in complete compliance with all zoning, local, county, and state ordinances. Should you need more references I will gladly provide you with dozens more! Thank you.
Respectfully,
Vickie Ehrlekrona


The beautiful Papillons that grace the pages of this website took over 30 years of pedigree research, skill, knowledge, heartache and dedication, and as a result Crisanda is able to produce lovely, typey Papillons today.
©Vickie Ehrlekrona ~ Crisanda Papillons ~
All rights reserved
©2011-2015