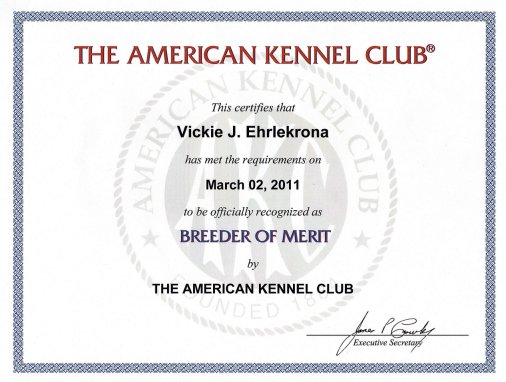 ~ AKC Breeder Of Merit ~
I am officially a Breeder of Merit with the American Kennel Club and take great pride in this accomplishment.
The Breeder of Merit Program honors breeder/exhibitors' dedication and hard work as they continue to produce dogs that are healthy, capable, and beautiful. The foundation of today's AKC, Breeders of Merit have the power to influence, guide, and teach future breeders, exhibitors, and all purebred dog owners.
AKC Breeder of Merit Requirements:
Has a history of at least 5 years involvement with AKC events.
Earned at least 4 Conformation, Performance or Companion event titles on dogs they bred/co-bred.
Member of an AKC club.
Certifies that applicable health screens are performed on your breeding stock as recommended by the Parent Club.
Demonstrates a commitment to ensuring 100% of the puppies produced are AKC registered.
The goal of the AKC Breeder of Merit Program is to celebrate a breeder's dedication and achievements that set them apart as a breeder and exhibitor! Their achievements in earning event titles, involvement in an AKC club, and their commitment to 100% registration of puppies that they produce and certifying that applicable health screens are performed as recommended by their Parent Club … ensure that the participants, and therefore the program, represent the same high standards that a Breeder of Merit demonstrates everyday in producing beautiful dogs!
The AKC is committed to monitoring achievement of all of the requirements of the AKC Breeder of Merit Program including verification of breeders' compliance with Parent Clubs' health recommendations and 100% registration of puppies for AKC Breeder of Merit participants. AKC collaboratively works with breeders who have not fulfilled the requirements by educating them on the importance of adhering to the recommendations, and helps them take the necessary steps to do so. This assures that virtually all litters bred by AKC Breeder of Merit participants meet the very high standards that are indicative of the program's name.
" When you feel like giving up, remember why you held on for so long in the first place."

The beautiful Papillons that grace the pages of this website took over 50 years of pedigree research, skill, knowledge, heartache and dedication, and as a result Crisanda is able to produce lovely, typey Papillons today.
©Vickie Ehrlekrona ~ Crisanda Papillons ~
All rights reserved
©2011-2025