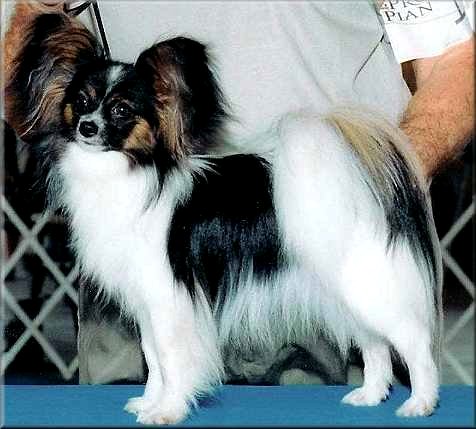 ~ Breeze ~
Just when we thought we'd have no reprieve from our hot August days... a lovely "Summer Breeze" blew in....
When presented with the opportunity to purchase this young bitch I did not hesitate. She is typey, sound, spirited, and blends beautifully with our other pretty girls. I was proud to have this quality bitch join us, and I am thankful that her owner was willing to part with her.
Breeze finished her American Championship QUICKLY in the skilled hands of her handler Brenda L.Combs by going WB, BOW, BOB from the classes for a 5 point major defeating 18 class bitches, one female special, and FOUR TOP WINNING top BIS/BISS/Mutiple Group winning and placing male Papillon specials,one being none other than the 2006 Eukenauba National Championship TOY GROUP winner in Florida!! Take that boys! Breezer you did us proud!
Breeze has been a wonderful producer and has consistently cloned her type, no matter the male she was bred to. We expect her DOM by the end of the 2011. She will be retired to a forever home by the end of 2011.
Ch Zelicaon Summer Breeze
Sire
Sandel's Leonardo Voncross
Sire
Ch. Jeja's Monsieur Gatt
Sire
Ch Kinlaine Cadaga Comet
Sire
Ch Cadaga's Yale
Dam
Cadaga's Keely
Dam
Ch. Jeja's Sa-Vannah
Sire
Ch. Cedarwind Trumpeter SOD
Dam
Magica Golda
Dam
Ch Nik-Nak's Polka Dot Magic
Sire
Ch. Domino's Pistol Pete
Sire
Ch. Loteki By Moonlight SOD
Dam
Ch. Domino's Luxxor Gold Nugget
Dam
Ch. Arbeitsheim Angel Magic
Sire
Ch. Sunbelt's Fixed Rate SOM
Dam
Arbeitsheim Wispy Wings
Dam
Zelicaon Summer (DOM)
Sire
Ch. Caratoot's Count Christopher
Sire
SUCH. Silenzio's Frank Sinatra
Sire
SU/NU/INTUCH Silenzio's Dancing Master
Dam
Silenzio's Simba
Dam
SU/DAN/Ch. Caratoot's Convince Chantalle
Sire
Chipman's Ringo Star
Dam
SU/NU/KD/CH Chpman's Like A Great Expectation
Dam
Ch. Domino's Cocoon For Zelicaon
Sire
Ch. Skies Flying All The Way SOM
Sire
Ch. Jeja's Nato SOM
Dam
Ch. Skies Fancy Dancer DOM
Dam
Ch. Domino's Silent Treasure
Sire
Ch. Ko-Be-Ko's Sunday Silence SOD
Dam
Ch. Domino's Pistol Packin' Patty