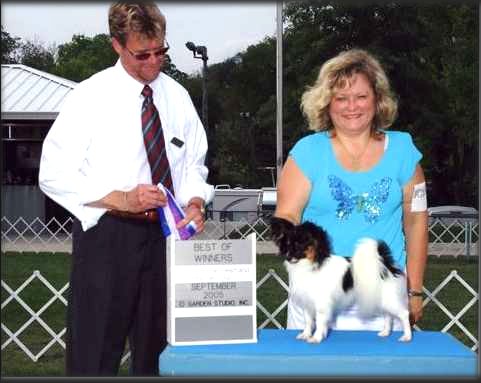 ~ Ch N Crisanda Chance Seque ~
Sassy was a Feather daughter, and could have been considered a rare jewel indeed for that very reason alone. She was born in my home and raised by me until she was 4 months old when she was taken to Colorado with her litter brother Drifter. In 2005 Sassy was sent by her owner to be shown in the midwest to her championship, and being a pretty, sound, typey bitch Sassy finished quickly with several nice wins to her credit.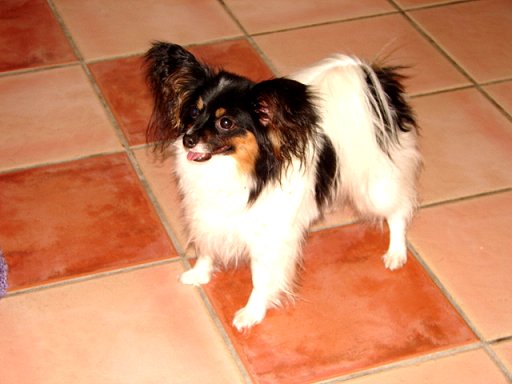 After completing her championship Sassy was placed in a pet home by her owner, and to my knowledge never produced a litter. Sassy was not a part of Crisanda's breeding program. Sassy's championship made her litter of three an all champion litter!
Sassy is the full litter sister to
Ch N Crisanda Get My Drift RN
, and
Ch Crisanda Game Of Chance.
She is the half sister to
Ch Crisanda And The Crowd Went Wild
,
Ch Crisanda Royal Eclipse
,
Ch Crisanda Game Of Chance
,
Ch Crisanda Stand Out From The Crowd
, and
Ch Crisanda Whisper On The Wind (DOM)
.
Champion N Crisanda Chance Seque
| | |
| --- | --- |
| Sex | Female |
| Breed | Papillon |
| D.o.B | 17-Apr-2004 |
| Breeder | Vickie Ehrlekrona |
Parents
Grandparents
Great Grandparents
AM CH Denzel Fighting Chance RN
AM CH Denzel The Risktaker (CERF #PA-1562 Category E at 3 Years)
AM CH Loteki Denzel Svengali CD (SOD) (HIT; CERF #PA-1558 Cleared at 11 Years)
Denzel The Cat's Pajamas
AM CH Denzel Wishful Thinking (DOM) (CERF #PA-1545 Cleared at 6+ Years)
AM CH Denzel Double Jeopardy (CERF #PA-1546 Cleared at 9+ Years)
AM CH Denzel Wish Upon A Star
AM CH Ken Mar Painted War Party (DOM)
AM CH Ken Mar Party On A Wave (SOM)
AM CAN CH Loteki Party Animal (SOD)
AM CH Ken Mar Liz Claiborne (DOM)
Ken Mar Numero Dos (DOM)
AM CH Ken Mar Thunder Chief (SOM) (AKC DNA #V119460)
Ken Mar Wild Heart (DOM)

Pedigrees are deemed reliable but not guaranteed for accuracy.
" From good things, I learn to be a thankful person. From bad things, I learn to be a strong person. "
~ Wilson Kanadi ~

The beautiful Papillons that grace the pages of this website took over 30 years of pedigree research, skill, knowledge, heartache and dedication, and as a result Crisanda is able to produce lovely, typey Papillons today.
©Vickie Ehrlekrona ~ Crisanda Papillons ~
All rights reserved
©2011-2015