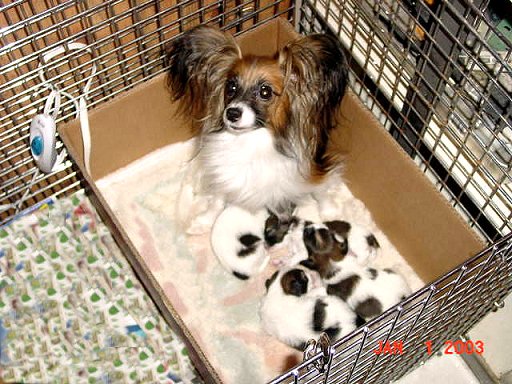 ~ Kvar Janhite Sable Moon ~
Sable was a cherished gift to me from Pearl George, Kvar Papillons & Phalenes after her beloved husband Monte died.
Sable is shown above in 2003 with her one and only litter. Ten weeks after her litter was born I was asked by Pearl to fly one of Sable's puppies to her so that he could be hand delivered to his new owners because they didnt' want him shipped. My husband and I had just moved in a new home in the mountains barely two weeks earlier and I was hesitant to leave home because so there was so much left to unpack and do. Against my better judgment I flew to Pearl's to deliver Sable's son Spanky to his new owner and to meet Pearl. Afterall, I'd only be gone three days what could possibly go wrong? I stayed at Pearl's home where all her Papillon legends had been born. I felt like I was on hallowed ground, and we had a wonderful time.
About two days into the visit with Pearl I called home to do my regular check in, and at that time I was told that Sable, along with several of my other Papillons had escaped out the fence in the new yard, and were lost in the mountains! In shock, I immediately flew home, and we began what would end up being a huge, long ordeal to locate the dogs and get them home safely. After a week we were able to locate all the lost dogs but Sable. Unfortunately she was never found in spite of several sightings, thousands of flyers, radio, TV and a huge reward.
Sadly, over the next year we had numerous people that would call telling us "we think we spotted your little dog just last week along the road", but the calls regarding Sable were never within minutes, hours or even the same day or week of the sighting, they were always several days to late and of course we would return to the area and would find nothing. Sable was never spotted during all of our massive searches throughout the ravines, mountains, and city. We looked for her for over three years, but sadly, I never saw her again, and I do not know what ever became of her. It was one of the most devastating losses in all my years in Papillons.
Sable lives on through her four beautiful offspring and their descendants who went on to found several breeders Phalene programs. Sable's four offspring were bred by me and they were Crisanda Moonlight Seronera, Crisanda Moonlight Safari, Crisanda Seychelles Moon and Crisanda Serengeti Moon. Her darling son Crisanda Serengeti Moon went on to produce a lovely champion bitch named Am & Can Ch. CH Kvar Lady Of The Moonlight (shown below) who was bred by Pearl and ended up being Pearl's last champion. Pearl bequeathed Lady to Kitty Sjong, (her friend of many decades), and Lady now lives in Denmark with Kitty Sjong.
Pedigree for Kvar Janhite Sable Moon

The beautiful Papillons that grace the pages of this website took over 30 years of pedigree research, skill, knowledge, heartache and dedication, and as a result Crisanda is able to produce lovely, typey Papillons today.
©Vickie Ehrlekrona ~ Crisanda Papillons ~
All rights reserved
©2011-2015