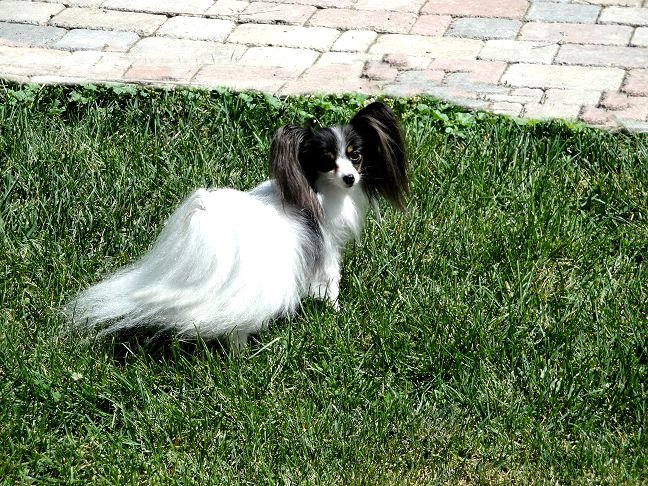 ~ Poppy ~
Poppy bares a striking resemblance to her dam and many of the dogs in her sires pedigree. She is quite a striking female, but she was so refined and dainty I gave her to my mother and she is now her cherished pet. She has a spitfire temperament and there is no ankle spared within her reach!! She has profuse coat and fringing and is quite a site to behold. Still intact, I may one day show her.
Poppy has such a beautiful pedigree, which is a nice line breeding with Bugs on both sides of the pedigree, , and to BIS/BISS Am&Can CH Kvar Touch of Josandre A/C CD (SOD), and Kvar lines. We hope she grows!
Poppy is sired by a pretty son of BIS/BISS CH Josandrč Watchmewin(SOD)"Bugs" (her grand sire and great grand sire Bugs is shown directly below).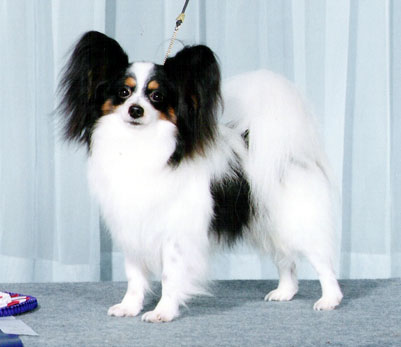 Sire
Ch Wingssong Just Watch Me
Sire
BIS/BISS CH Josandre Watchmewin(SOD)
Sire
BIS/BISS Am&Can CH Kvar Touch of Josandre A/C CD (SOD)
Sire
CH Kenrennie Caspar SOD
Dam
Kvar Touch of Class DOM
Dam
CH Josandre Mira Mira
Sire
BIS/BISS Am&Can CH Kvar Touch of Josandre A/C CD (SOD)
Dam
CH Laserna Shawnee
Dam
Ch Wingssong Tallulah
Sire
Ch Wingssong Totally Moonstruck
Sire
Ch Loteki By Moonlight
Dam
Ch Wingssong Celebration Time DOM
Dam
Ch Wingssong Celebration Time DOM
Sire
Group Winner Ch Loteki Ken Mar Totally Radical
Dam
Ch Wingssong Wind Bneath My Wings
Dam
Ch Crisanda Stand Out From The Crowd

Sire
BIS/BISS Ch Wingssong And The Crowd Roared
Sire
BIS/BISS CH Josandre Watchmewin(SOD)
Sire
BIS/BISS Am&Can CH Kvar Touch of Josandre A/C CD (SOD)
Dam
CH Josandre Mira Mira
Dam
CH Domino's Ain't Misbehavin' (DOM)
Sire
CH Wingssong Bad As I Wanna Be
Dam
CH Ch Domino's Silent Snicker
Dam
Ch Ken Mar Painted War Party DOM
Sire
Ch Ken Mar Party On A Wave SOM
Sire
Ch Loteki Party Animal
SOM
Dam
Ch Ken Mar Liz Clairborne DOM
Dam
Ken Mar Numero Dos DOM
Sire
Ch Ken Mar Thunder Chief SOM
Dam
Ken Mar Wild Heart
DOM